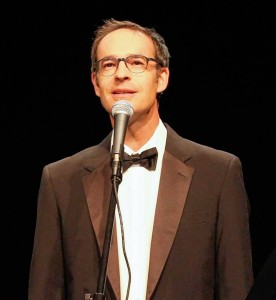 Olivier Lebleu will be performing and presenting two events sponsored by Palatine Sister Cities this coming October:
Pardon My French
A musical performance and history of popular songs of the 1940s – 1970s.
Saturday, October 20, 2:30 – 4:30 pm
Cutting Hall, 150 E Wood, Palatine, IL
Consuelo Vanderbilt Balsan: The Grandeur and Grace
The colorful life in stories & photos of an American heiress & dutchess
Monday, October 22, 7 – 8:30 pm
Palatine Library, 700 N North Court, Palatine, IL
Olivier Lebleu is a French writer, historian, and performer. He was born in 1966 and lives in the historically-significant harbor city of La Rochelle, on France's mid-Atlantic coast.
He is a graduate of the Sorbonne, University of Paris, in both English language and Media Techniques. He had a ten-year career in the French capital as a television production manager and then moved to La Rochelle where he works as a teacher, lecturer and writer. As a French translator, he specializes in biographies and scientific subjects. His work includes translations of The Glitter and the Gold, the memoirs of the former Duchess of Marlborough Consuelo Vanderbilt Balsan; The Ark before Noah, by British Museum curator Irving Finkel; Eat Dirt, by Dr. Josh Axe; That Woman, The Life of Wallis Simpson, by Anne Sebba; Peggy Guggenheim, The Shock of Modernity, by Francine Prose.
His original works to date include a biography, three novels, three plays and four histories, some of which were award-winning. He is a specialist on the subject of Zarafa (Arléa, 2006), the first giraffe to live in France, in 1826. He began acting in his early twenties and is currently performing in his own play, Le Talisman de la Girafe.
Writer's residences have taken him as far abroad as Alexandria (Egypt), Vienna (Austria), Pondicherry (India, 2013) and San Francisco and Chicago (USA). He's a regular presenter of French Alliances and Lycées across the world.
When he turned 50 in 2016, he decided to write and perform his first one-man show. A regular visitor to Illinois for the last five years, he has written a special show to celebrate his love of popular songs which became shared hits between France and the United States in the '60s and '70s – Pardon my French!